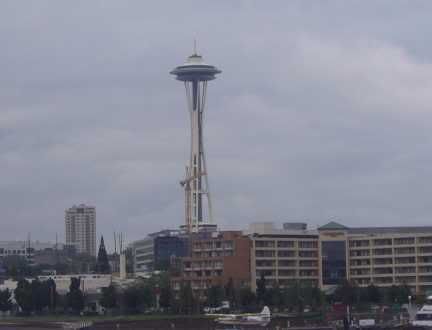 It's been nearly one whole day since SMX ended and I didn't want to wait any longer to blog about this year's SMX Advanced in Seattle, which really far exceeded my expectations (and they were high). Please forgive any rambling, run on sentences and incomplete thoughts which are bound to come up (often) in this post. I'm still recovering from my red eye home from Seattle to NY which got me into JFK at 5 a.m.
I learned a lot this year and I'm really, really excited to start applying all the delicious new tactics. I plan on boiling down some detailed info (and giving out much-deserved props to the presenters) when I'm more coherent and have had a good bike ride to burn off all the fried food I ate last week.
For now, here's a summary of my key takeaways (let me preface this by saying I went to EVERY single paid search session at the conference). There were seven.
How's Your QSO? Quality Score Optimization For Pros
Targeting The Search Funnel
Pump Up Those Conversions!
Test That Ad!
The Mad Scientists Of Paid Search
Ads On The Move: Mobile Paid Search
Amazing PPC Tactics
The first four sessions took place on day one and seemed more focused on strategy, metrics and overall campaign best practices with day two drilling down into specific, tactical "flip the switch and get better performance" advice .
So, key takeaways:
PPC is no longer the bastard step-child of SEO (which was sort of the feeling I got at last year's SMX-Advanced.) This conclusion is based on the amount of really in-depth PPC sessions available this year. I got good ideas from each and every session – more than one in most cases, so I have a good 14 to 20 things I can tweak, test and review for all my clients' campaigns. Which brings me to my second key takeaway…
Wow, do I have a lot of work to do. There's nothing like a really focused, advanced conference to re-ignite the enthusiasm for one's chosen profession. I love listening to really smart people take something I thought I knew everything about and show it to me from a completely different angle. One big example was looking at Google Analytics as a key tool in helping optimize a PPC campaign, particularly for BtoB campaigns that involve long sales cycles. I will get more into that with my next post.
Search marketing IS online marketing and vice versa. Now I kind of get why people call it intent-marketing or decision-marketing instead of "search marketing" – though lord knows the last thing this industry needs is more buzzwords. It almost sounded like Ad:Tech up there at times with people talking about various techniques for maximizing exposure on Google's content network (one big advertiser pulled all their CPM buys down and now only runs banners on Google's content network on a CPC basis), mobile targeting and optimization, stuff you can do on Bing's content network (something I have NEVER thought about) and one really great tip on getting ad exposure in the search results of sites like Walmart and Target (oh the fun I shall have!)
I'm not looking at the web analytics enough. Google Analytics is a powerful tool – it became clear very early on in the conference that I'm not using all the capabilities and reports that are available. I plan to change that.
The best campaigns are the ones that integrate organic AND paid search. This is particularly true now that search results are more universal in nature – with things like product images from Google's Merchant Center (for example) being pulled into the organic search results. Another key point – organic and non-search traffic and user behavior (of the type you can monitor in Google Analytics) is something that absolutely needs to inform paid search strategy.
I'm not testing enough. This was actually a key take away I had from last year's conference and I did integrate more consistent testing into my PPC management process – but I really got some great ideas on how to test as well as a few tools that will make the process easier to streamline.
So, there you have it – lots of work, not a lot of specifics yet, but that will come with my next post.
I also have a few suggestions for the SMX folks:
It would be nice if Danny Sullivan could moderate at least one paid search session too. Come on Danny, those of us on the paid side love you too and value your insight, particularly when panelists recommend things that I would consider "black hat". Several panelists recommended things that are in direct violation of Google's TOS. I found myself thinking…"what would Danny – or Google – say about this?"
We need more engine input, again, particularly on panels where speakers are recommending questionable tactics be used to gain a competitive edge. Last year's SMX had a Google engineer on several panels and that was really helpful because he ended up agreeing with a lot of things that had been purely speculative in the past (e.g., bidding high for the first few weeks after launch).
Small business/campaign strategies were not covered nearly enough. And by small, I mean less than 20K keywords in an account and less than 50K/month in budget. Don't get me wrong, I love to hear what the big guys are doing, but there are a lot (and I do mean a lot) of smaller advertisers out there that could use more specific guidance.

That's it for now *yawn* Seattle was fun – thanks to Bloofusion for the bike tour and boat ride!!

Here I am (left) with Steve, Bloofusion's SEO guru


All five us us during the bike tour. Oh, how geeky am I?? Good lord…going to bed now.